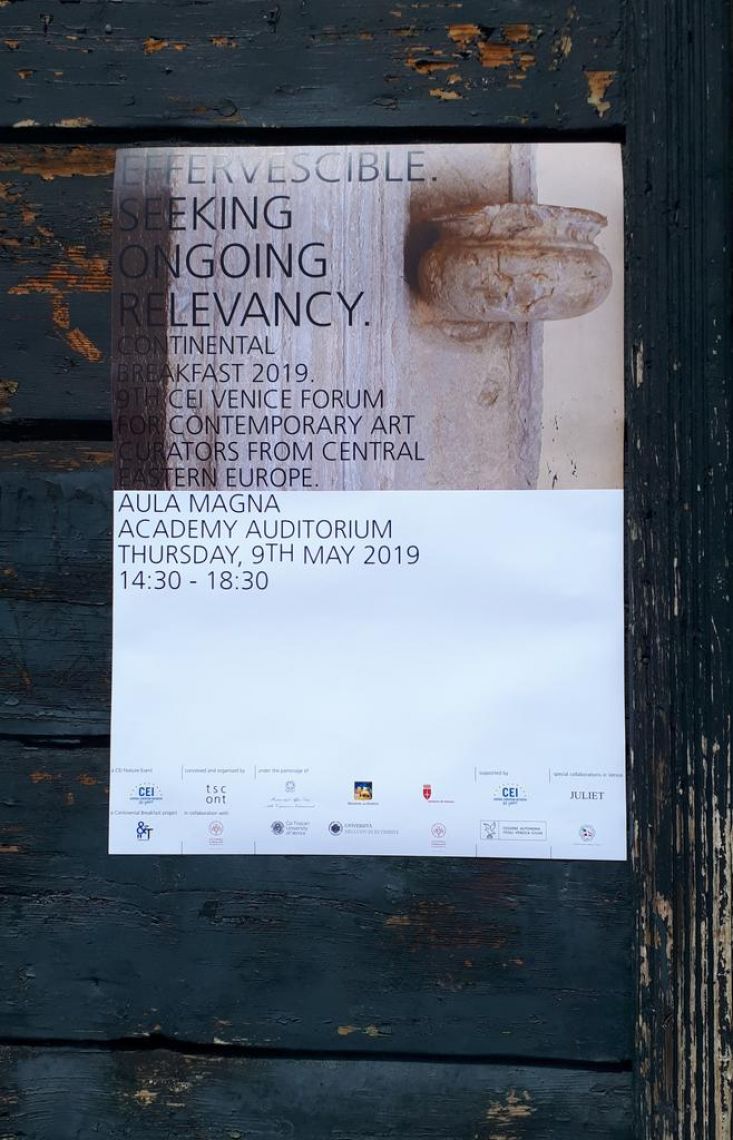 Under the inspiring topic "Effervescible. Seeking ongoing relevancy", the 9th CEI Venice Forum for Contemporary Art Curators from Central and Eastern Europe was held in Venice, on 9 May, at the premises of the Academy of Fine Arts.
Organised by the Trieste Contemporanea Committee, and supported by the CEI through the Cooperation Fund as one of its flagship activities in the field of culture, the Forum is a biennial event dealing with contemporary art promotion and the exchange of curatorial practices coinciding with the opening of the Venice Biennale. 
Welcome speeches were delivered by Giuliana Carbi, President of Trieste Contemporanea, and Paola Bristot, from the Venice Academy of Fine Arts. The CEI was represented by Barbara Fabro, Senior Executive Officer, who underlined that "the Forum represents a valuable platform for promoting a dialogue on contemporary art practices and new trends among experts from different countries and different backgrounds" and that "over the years, the Forum has stimulated the creation of effective networks encompassing a high number of institutions from various countries".
During the Forum sessions, prominent curators and experts from various CEI countries (Albania, Bulgaria, Croatia, Hungary, Poland, Romania, Italy, Serbia and Slovenia) presented their concepts, activities and proposals in view of creating a preview-map of what will be of relevance in the context of contemporary debate in the arts in 2019-2020. The main idea was to bringe together different voices to exchange views and ideas in search of a current definition of the principle of relevance, thus promoting an open debate and a real exchange of experiences.
A special session was devoted to several young curators, selected from an open call and from the Q-rated workshops, who had the opportunity to present their approaches and ongoing concepts.
A follow-up event of the Forum is taking place in Trieste in September. 
This year's Forum was held under the patronage of the Italian Ministry of Foreign Affairs and International Cooperation.