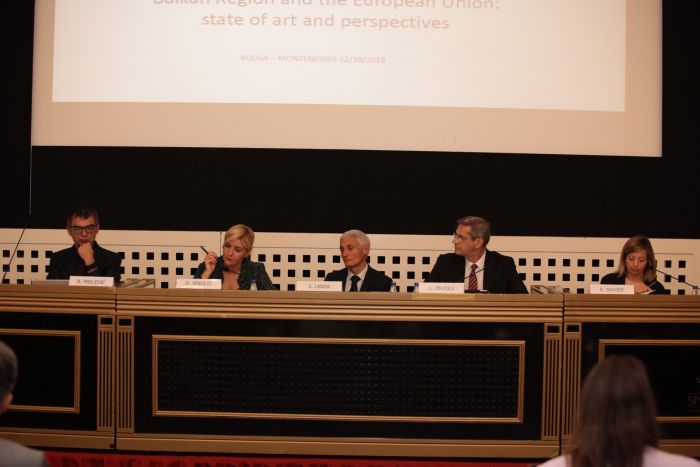 The final conference of the capacity building project "Support for Strengthening Energy Regulatory Authorities in the Western Balkans" was held in Budva - Montenegro on 12 October gathering representatives from the beneficiary countries, Albania, Serbia and Montenegro, as well as from the European Commission, the Energy Community, and energy stakeholders.
The project was led by the Italian Regulatory Authority for Energy, Networks and Environment (ARERA) – in coordination with the Italian Electricity Market Operator (GME) and the Italian Transmission System Operator Terna. It focused on transferring know-how on market coupling initiatives among EU members to the National Regulatory Authorities of Albania (ERE), Montenegro (RAE) and Serbia (AERS).
This project is co-financed by the CEI Know-how Exchange Programme (KEP) through the CEI Fund at the EBRD, sponsored by Italy.
The main objective of the project was to promote the integration between the European and the Balkan regional electricity market by strengthening the capacities of AERS, ERE and RAE to manage the process of market coupling between their national electricity markets and the Italian electricity market. This, in accordance with EU best practices embedded in EU Regulation 2015/1222 establishing a guideline on Capacity Allocation and Congestion Management (CACM).
The potential benefits of liquid spot markets in the Western Balkan countries are significant: many of these countries do not have the critical size to develop liquid markets in isolation. Liquid cross-border markets will lead to important savings in the Western Balkans through more competition and more effective use of existing generation and transmission infrastructure in the region while attracting more investments.
The know-how transfer in 2018 was articulated in 4 workshops in Italy, Albania, Serbia and Montenegro.  Experts from the Italian Regulatory Authority, Terna and GME exchanged information and knowledge with stakeholders of the beneficiary countries.
"350 million EUR have been invested in the energy system of Montenegro in the last five years. This has significantly influenced the connectivity and the national goals" said Montenegrin Minister of Economy Dragica Sekulic at the event opening. While the Italian Ambassador in Montenegro, Luca Zelioli jointly with the CEI representative Elisabetta Dovier announced that the second phase of the project was to be financed by the CEI Find at the EBRD contributed by Italy and implemented in 2019.
For more information: dovier@cei.int