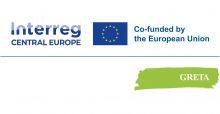 In the framework of the Interreg Central Europe project "GRETA – Greening Regional fReight Transport in fuAs", the CEI-ES, acting as Project partner, is launching an open call for supporting the communication and dissemination activities as well as the graphic design and printing of project promotional materials.
The activities to be implemented by the external expert are described in the documents listed below.
Interested bidders are required to submit their offers in accordance with the requirements set in the official documentation of the call by 5 June 2023, 12.00 CET.
For more information: dileno@cei.int; silvestri@cei.int
Q&A

Q: Tipologia di carta richiesta/prevista per stampa bloc notes, infografiche

A: Si richiede carta FSC/riciclata per gli elaborati menzionati.

 

Q: Matite BIC: presso alcuni fornitori, sono disponibili matite BIC personalizzabili in colorazioni differenti da quelle richieste. È possibile proporre varianti, sempre rimanendo nella tipologia di prodotto richiesto?

A: Sì, è possibile proporre varianti di colore per le matite.

 

Q: Video del progetto: nel tender è previsto: "con voce guida inclusa. Tutti i video dovranno avere li formato del video di animazione."

La voce guida deve essere in lingua inglese?

A: Corretto, la voce guida dovrà essere in lingua inglese.

 

Q: Si potrebbe avere il link di un video di animazione di esempio, per chiarire la metodologia di realizzazione? 

A: Di seguito il link al video del progetto Interreg AdrIon ADRIPASS: https://www.youtube.com/watch?v=UivDBYOTlcI