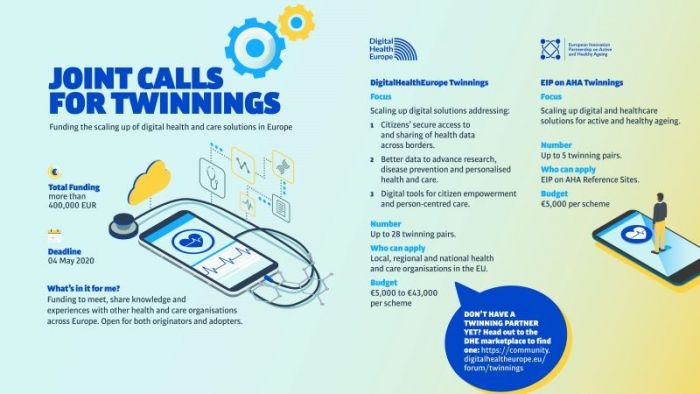 The CEI is glad to announce  - as part of the EU-funded DigitalHealthEurope (DHE) project team - that the 2nd Call for Twinnings is officially open. 
The call focuses on supporting local, regional and national health and care providers in Europe (adopters) wishing to adopt innovative solutions available for transfer from another local, regional and national health and care providers (originators) in Europe.
Twinning opportunities are available to groups of people, both small and large, with different planning ambitions, diverse levels of capacity, and varied budgetary expectations.
The DHE_2020 twinning scheme is offering around 400,000 EUR for up to 28 twinnings.
Deadline extended:  22 May 2020
Don't miss the instructive webinars in March/April 2020 to get information on relevant terms and conditions.
SEE ALSO: DigitalHealthEurope Call for Twinnings Webinar held on 25 June 2019.
---
Digital Health Europe is funded under the Horizon 2020 Programme and aims at supporting large-scale deployment of digital solutions for person-centered integrated care. This will be achieved by identifying, analysing and facilitating the replication of impactful best practices, twining schemes and mobilisation of stakeholders, thanks to the consortium's exceptional expertise.