ANSA news
Ucraina, Poroshenko signed law on "lustration"
Fri, 10/10/2014 - 07:55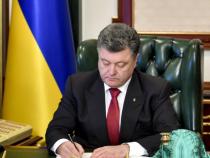 (ANSA) - KIEV - Ucraina's President Petro Poroshenko signed a controversial law that the parliament had passed in September, aimed at the cleansing of the ranks of power, in order to ban the civil servants who are considered to be colluded with former pro-Russian president Viktor Ianukovich: this 'lustration' could involve about one million people. This new law will prevent all the civil servants who worked in the Iankunovich era from being assigned to posts in the highest offices for the next ten years. Poroshenko himself was Ucraina's Minister for Trade and Economic Development when Ianukovich was ruling, even for less than one year, from March to December 2012. This measure will affect all those who worked in the highest offices of the Ukrainian Communist Party during the Soviet era, or cooperated with the con il Kgb or with military intelligence services. According to the press office of Ukrainian presidency, this law ''establishes the legal basis and the organization of civil servants'' in order to ''restore confidence in the ruling power and create the conditions for a new system of authorities in accordance with European standards.'' (ANSA).