ANSA news
Hungary, Budapest remembers "houses with a yellow star"
Mon, 23/06/2014 - 11:12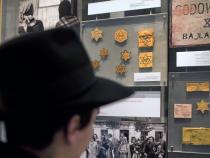 (ANSA) - TRIESTE - More than 2,000 houses with a yellow star throughout Budapest, more than 200,000 Hungarian Jews, including converts, forced to move there in the last days of Miklos Horthy's regency after local authorities had evacuated residents. A sort of huge "widespread ghetto'', designed as last stage before the deportation to the Nazi death camps. This is what happened exactly 70 years ago in the heart of Europe, ravaged by World War II. Days of terror and brutality, largely removed from the collective memory in Hungary, that will be remembered thanks to the efforts of the Open Society Archives (OSA) of the Central European University. In recent months, OSA launched a research programme to raise awareness of the houses with a yellow star, supported by volunteers and historians. The most important result, is a map on the Internet (http://www.yellowstarhouses.org/) of all buildings and residences marked by the Star of David seventy years ago. On the map of Budapest, so you can see the surviving buildings of the "widespread ghetto" and the places where the buildings destroyed during the war or subsequently demolished used to stand. (ANSA).